Hey there, fellow hair enthusiasts! Are you ready to dive into the wonderful world of hair care rituals that go beyond the traditional shampoo and conditioner routine? Well, you're in for a treat! In this ultimate guide, we'll embark on a journey to discover trendy and innovative approaches to caring for your precious locks. So, buckle up and get ready to explore a realm of hair care that will leave you feeling refreshed, rejuvenated, and ready to embrace a whole new level of hair happiness.
The Rise of Alternative Hair Care Rituals
Gone are the days when shampoo and conditioner were the be-all and end-all of hair care. Today, a myriad of exciting alternatives has taken the beauty world by storm, offering us a chance to break free from the monotony of our hair care routines. These innovative rituals not only provide unique benefits but also allow us to embrace self-care and indulge in a little pampering. Let's explore some of these game-changing hair care rituals that go beyond the basics.
Experience the transformative power of Olaplex products for healthy and hydrated hair. From their reparative elixirs to luxurious moisture masks, Olaplex offers a range of solutions to revitalize and nourish your locks. Discover the secret to luscious, vibrant hair as Olaplex replenishes moisture, restores strength, and enhances your hair's natural beauty.
Co-Washing: The No-Poo Revolution
Say goodbye to the harsh sulfates and foaming agents found in traditional shampoos and hello to the no-poo revolution! Co-washing, short for conditioner washing, has gained popularity for its gentle approach to cleansing hair. By using a nourishing conditioner instead of shampoo, co-washing helps retain the hair's natural oils, making it ideal for those with dry, curly, or damaged hair. As you embrace the co-washing trend, get ready to experience the incredible softness, moisture, and improved hair manageability that comes with it.
Hair Masks: Indulge in Deep Nourishment
Sometimes our hair needs an extra dose of TLC, and that's where hair masks come to the rescue! These intensive treatments are like a spa day for your locks, providing deep hydration, repair, and rejuvenation. Whether you choose a store-bought mask infused with nourishing ingredients like argan oil or shea butter, or you prefer to whip up a DIY concoction using natural ingredients from your kitchen, your hair will thank you for the extra dose of pampering. Sit back, relax, and let the magic of a hair mask transform your tresses into a luscious and revitalized masterpiece.
Scalp Care: The Foundation of Healthy Hair
Healthy hair starts at the roots, quite literally! While we often focus on the strands themselves, paying attention to scalp care is crucial for maintaining a healthy hair environment. Scalp care has gained significant attention lately and for good reason. Taking care of your scalp promotes a balanced, clean, and nourished foundation for optimal hair growth. From exfoliating scrubs that remove product buildup and dead skin cells to soothing oils that moisturize and soothe, there are numerous scalp care products and techniques to explore. Show your scalp some love, and it will reward you with vibrant, healthy hair.
Hair Oils: Nourish and Shine
Unlock the secrets of lustrous, shiny hair with the power of hair oils. These liquid miracles have been used for centuries to nourish, protect, and beautify hair strands. Whether you choose coconut, argan, jojoba, or any other oil that suits your hair type and needs, incorporating them into your hair care routine can yield remarkable results. Hair oils help replenish moisture, seal the hair cuticle, tame frizz, and add a healthy glow to your tresses. You can apply them as pre-shampoo treatments, leave-in conditioners, or finishing touches for that extra shine. Embrace the magic of hair oils and let your hair shine bright like a diamond.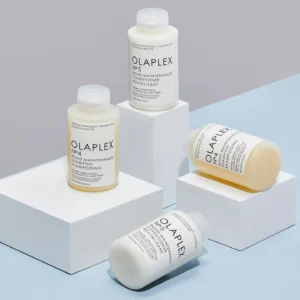 "Prepare yourself for an extraordinary hair transformation as you embark on a captivating journey with the Olaplex pack, showcasing the remarkable products numbered 3, 8, and 6. Brace your strands for the magic of No. 3, a reparative elixir that breathes new life into your locks, bestowing them with strength, vitality, and a nourished glow. Then, surrender to the indulgence of No. 8, an opulent moisture mask that resurrects your hair's radiance, unveiling a dazzling brilliance and infusing it with deep hydration fit for royalty."
Hair enthusiasts! You've now explored a range of trendy and alternative hair care rituals that go beyond the traditional shampoo and conditioner routine. By incorporating these practices into your hair care regimen, you can enhance the health, vitality, and beauty of your locks. Remember, every hair journey is unique, so feel free to experiment and find the rituals that work best for your hair type, concerns, and preferences. Whether you choose co-washing, indulge in hair masks, prioritize scalp care, embrace hair oils, or explore other innovative techniques, may your hair always reflect the love and care you invest in it. Here's to a lifetime of stunning, healthy, and happy hair!